"This is not a typical carriage dispute," says Charter Communications CEO Chris Winfrey.
On Friday, September 1st, 2023, The Walt Disney Company blocked Spectrum, a brand of Charter Communications, from broadcasting any of its content as a result of stalled carriage contract negotiation efforts. As of September 4th, 2023, Labor Day in the U.S., Disney has not budged from their position and has continued the blackout of all Disney-owned channels on Spectrum.
This is an unprecedented action considering that it's a major sports weekend for Football and Tennis and Spectrum is the 2nd largest cable company in the U.S.. Spectrum customers were not able to watch the start of the College Football season on Disney-owned ESPN channels. With the NFL season about to start, it is unknown if the opening Monday Night Football game on ESPN's networks and ABC will be available to customers. In some markets, it seems that ABC is still live for customers. The US Open, which is being aired on ESPN, has not been available to Spectrum subscribers.
A host of other Disney networks including Fox's FX networks and Disney's Freeform are all part of the blackout.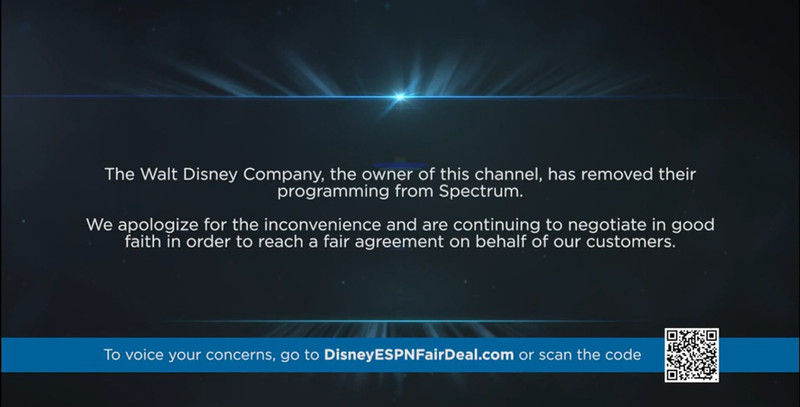 Above: The message that Spectrum customers see when trying to watch ESPN or any Disney owned channel.
The Issues at Hand
Both sides are blaming each other for the stalled negotiations and have started campaigning to present their positions to Spectrum customers. A key issue at hand in the negotiations is Spectrum's request that Disney provide access to its ad-supported streaming services to its customers.
Disney has noted the following in its public statement about the negotiations.
Spectrum wants Disney to give access to its direct-to-consumer services for free, which Disney believes is a stretch too far.
ESPN plays a significant role in Spectrum's channel lineup with 53 of the top 100 telecasts on Spectrum being an ESPN broadcast.
At Spectrum/Charter, 71% of their subscribers watch Disney broadcasts and content with 3.3 billion hours watched.
Charter/Spectrum declined to extend negotiations to ensure that their customers have access to the key live sports events during the Labor Day weekend.
On the other hand, here are key points that Spectrum/Charter has been making.
The current video ecosystem is broken and the current subscriber trajectory is not sustainable for Spectrum/Charter. The industry (traditional and virtual multichannel video programming distributors/MVPD) has lost 25% of its customers in the last 5 years or 25 million customers.
Disney is requesting license fees that are too high.
Disney wants Spectrum customers who don't subscribe to their services to pay for their content. (This looks to be a request that Spectrum be charged for all of their subscribers).
Less flexibility for Spectrum to create content packages for their customers.
Spectrum needs access to ad-supported Disney direct-to-consumer services so that they can retain and gain customers. In return, Charter/Spectrum will market Disney's DTC services to its broadband-only customers.
Gaining lower penetration minimums so their customers can gain package flexibility from Spectrum. (This is in reference to Disney's request that all customers be charged for Disney content).
With the Disney Spectrum blackout extending through Labor Day, it is uncertain when this will end. In some reports, it has been noted the Charter is ready to stop carrying Disney content for good if a deal can't be reached that meets their demands.
Will Disney bend to Charter/Spectrum's requests?
Further info on the topic: