After being able to reopen Walt Disney World Resort in Florida, it seemed as if The Walt Disney Company was on a good path to exit out of the issues that it faced with the closure of its parks and resorts. Today, that path has remained cloudy as the company has not been able to open up Disneyland California, and will have to close Disneyland Paris once again. Disney Cruise Line remains closed and it remains unknown when that division will be able to restart operations. Also, Disney has not been able to increase capacity at Walt Disney World, which has limited their operations.
If Disney can not move forward with reopening its other parks and expand on Walt Disney World's capacity, they are going to remain in a very tough situation for the end of this year and next year. Even though they have experienced success with a move to streaming and direct-to-consumer content, Disney will have trouble replacing the revenues that Parks, Experiences, and Products provides to the company. Thirty-five percent of its 2020 Q1 revenues were from that segment. Direct-to-Consumer and International was at 19 percent for the same quarter.
As long as the closures remain in place and capacity remains capped, Disney's financial situation will continue to slowly deteriorate. The effects of the closures have already postponed many projects that Walt Disney Co has been working on for its parks and resorts.
In April, I wrote about how the storm clouds were starting to subside for Disney. Those clouds have subsided a little; however, they remain. The Walt Disney Company will have to start being creative with its strategy if it wants to steer around the storm clouds.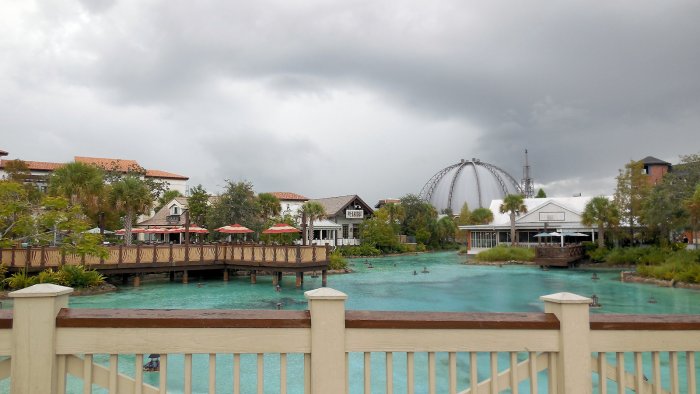 Above: a photo of Disney Springs with dark clouds. By David Aughinbaugh II. Feel free to share with attibution to David and NavFile.