The Walt Disney Company raised ticket prices for its Walt Disney World theme parks earlier this month. They have kept the one-day value tier tickets at $109 and did not increase the cost of annual passes; however, they have increased the fees for one-day tickets in the upper tiers. During major holidays, tickets can cost up to $159 dollars, which is up from $124 according to Theme Park Tourist. The company has also increased the cost of multi-day tickets at the parks. Theme Park Tourist reports that the increases are around 15 to 30 percent from the previous prices. The increases at Walt Disney World follow the company's price increases at Disneyland earlier this year.
It is interesting that the company has decided to move forward with the prices increased before the new Star Wars: Galaxy Edge land launches in Hollywood Studios at the end of August.
Larger Margins
Will the increased prices lead to increased operating margins for Walt Disney Parks and Resorts and the Parks, Experiences, and Consumer Products segment? That will have to be seen as it is unknown if the Star Wars: Galaxy Edge expansion and the other new attractions will raise operating costs significantly. The operating costs for those attractions are not likely to increase costs above the increased revenue that the company projects to earn from the price increases and the additional guests the company may attract due to the new attractions launching this year.
For the company's 1st quarter 2019 earnings results, the company saw its operating margins for the Parks, Experiences, and Consumer Products division increase. Increases in ticket prices were one of the main factors that led the company to perform well for the quarter. Disney's operating margin will increase again if its costs do not increase significantly and if guest levels remain where they are at right now.
It will have to be seen if the prices increases will help the company's performance for the current quarter and the rest of the year. They have in prior years.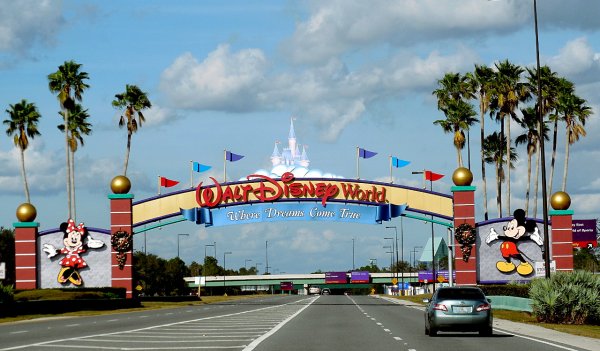 A photo of one of the enterances for Walt Disney World in Bay Lake, Florida. Photo by David Aughinbaugh II