ownCloud is an open source file storage system that provides desktop file sync and access to files through an online interface. The software is similar to commercial file sharing solutions that are offered by a number of companies in Silicon Valley. In contrast to those cloud services, ownCloud allows you to run the software on your systems or in the cloud. The online interface is easy to use and has multiple security options to help keep your files secure. Also, file encryption is available to help keep your files even more secure. A very important feature of ownCloud is that you are in control of the software and the underlying technology.
The open-source file sync software that is part of ownCloud allows you to sync files with your desktop, laptop, or mobile device. OwnCloud has optional sync capability which allows users to select the files that they want to sync to their computer and still see the files that are not synced. This is a unique feature that is not found in other applications, including ownCloud derivative Nextcloud.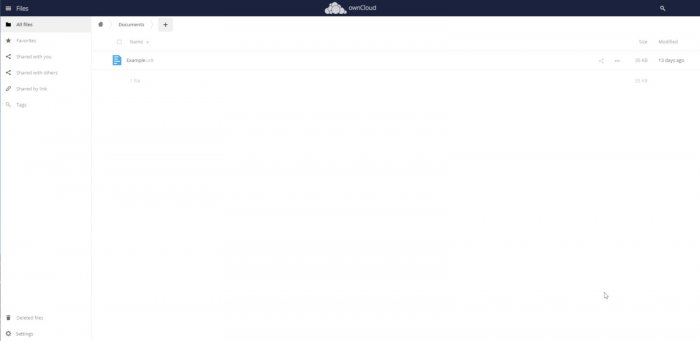 Above: the ownCloud interface.
NavFile has entered into the ownCloud segment as a services provider. We provide installation, hosting, management, and consulting services for ownCloud. You can learn more about our ownCloud services on this page.