NavFile Storage Onsite is NavFile's file storage, sync, share, and collaboration application that runs on an Asustor Network Attached Storage device (NAS) and is powered by ownCloud software. Complementing our cloud-based NavFile Storage, our Onsite version allows customers to run our file share and sync solution in their office, data center, or house while still retaining most of the benefits of a cloud-based solution.
With a NavFile Storage Onsite device, customers have access to their files on the LAN network, where speeds are typically much better than those provided by internet service providers. In addition, customers do not lose seamless access to files outside of the LAN network with NavFile Storage Onsite. All of the files stored on our storage solution can be accessed via a web portal or through the various ownCloud computer and mobile apps anywhere in the world.
To enable global access to a customer's storage device, our technology team has developed a networking solution for the NAT and DNS limitations that are found in office and home environments. The result is that users can access the files stored on the NAS through one URL/subdomain inside and outside the local network. Instead of having customers solve this issue on their own, NavFile Storage Onsite takes care of it with a software-based solution.
Asustor NAS
NavFile is an Asustor partner and has access to their NAS products. Asustor NAS devices are among the best in class with advanced features and hardware. The advanced features of Asustor NAS servers allowed NavFile to develop a software-based solution for routing, NAT, and DNS issues that are common in office and home environments. Also, the Asustor's support for third-party applications allowed NavFile to successfully integrate ownCloud with their NAS devices.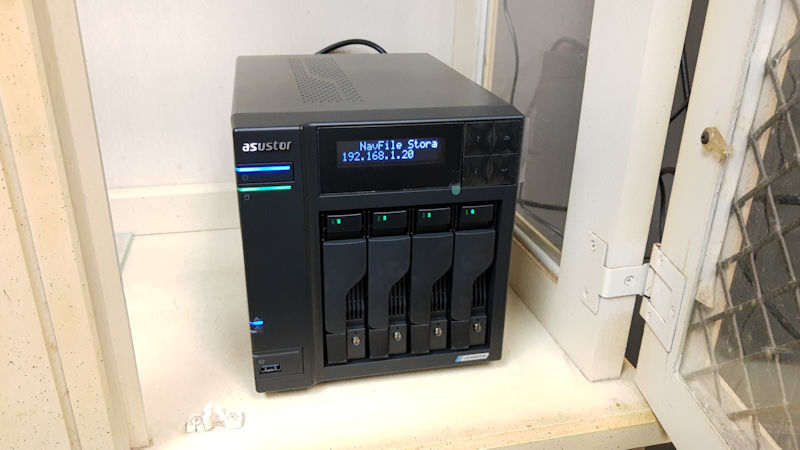 Above: Asustor NAS Lockestor 4 Gen2 AS6704T with NavFile Storage Onsite.
ownCloud
NavFile Storage Onsite is powered by ownCloud, which serves as the application that provides file sync, share, and collaboration functionality. NavFile is an ownCloud Silver Partner, and all customers of NavFile Storage Onsite have access to enterprise subscriptions and other software and support packages offered through ownCloud. Customers also have access to ONLYOFFICE Enterprise and other application packages to attach to their NavFile Storage instance.
How To Get NavFile Storage Onsite
If you are interested in getting a NavFile Storage Onsite device, please contact us here. Currently, we provide custom quotes for each customer depending on the type of solution needed.