As part of NavFile's coverage of The Walt Disney Company, we are providing financial analysis of the company's quarterly earnings reports and yearly earnings. Our research analyst, David Aughinbaugh II, will be providing financial analysis for each quarter. In our financial analysis articles and presentations, we will be presenting a detailed overview of financial trends for the firm and what to watch going forward for each quarter. All of the articles are featured in our NavFile Center area of the site. This page contains an overview of our coverage and the current financial state of the firm.
Quarterly Earnings Analysis
Below is a list of the quarters that we have covered for Walt Disney Co.
Fourth Quarter 2019 Earnings Financial Analysis - This report covers Q4, which was a rebound quarter for the company. Walt Disney Co. beat estimates for earnings per share and had an comparable EPS of $1.07 compared to an expected $0.95 per share (12.6% above expectations). Studio Entertainment was the big winner in the quarter as that segment saw its revenue increase 52% and its operating income increase 79% from Q4 2018. Parks, Experiences, and Products was also a solid performer during the quarter as its income was up 17% from last year's quarter. Media Networks registered a slight decline in income for the quarter (-3%). Direct-to-Consumer and International had increased losses; however, revenues were up significantly compared to last year (325%). During the week following the earnings announcement, Disney+ was launched and the company reported that it had 10 million subscribers on day one.The company's earnings were solid despite a decline in performance at Media Networks.
Third Quarter 2019 Earnings Financial Analysis - Our third report on the company covers Q3, which was somewhat of a disappointment for Wall Street and investors. The company missed revenue and profit expectations, had 21st Century Fox integration costs, and saw attendance slowdowns at their parks. The main driver of lower performance was the increased costs as a percentage of revenue. Cost of services increased to $11.445 billion, total costs and expenses were up, and SG&A expenses were also up.
Second Quarter 2019 Earnings Financial Analysis - This was our second report on the organization's earnings. The company meet Wall Street expectations, completed the 21st Century Fox acquisition, and announced the launch of Disney+. You can read more about our analysis of the quarter on this page.
First Quarter 2019 Earnings Financial Analysis – Our first report on the company. Walt Disney reported earnings that exceeded Walt Street expectations for earnings per share and revenues (slightly above expectations). You can read our full analysis here.
Company's Next Earnings Report: November 7th, 2019 After the Bell (2019 Q4/4th Quarter). Earnings call at 4:30 PM on their website. We will have analysis of the quarter after the announcement. The next earnings report will provide information on whether the firm was able to control rising costs and the expectations for Disney+'s launch on November 12, 2019.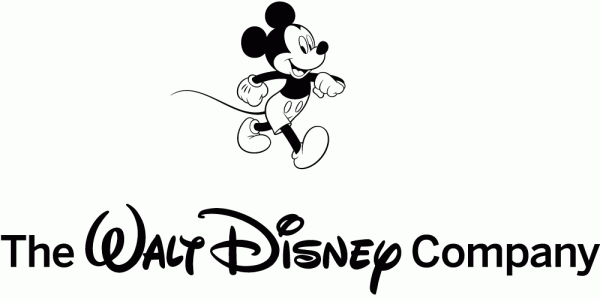 Above: The Walt Disney Company logo with a Mickey Mouse walking.
Financial Analysis Overview of the Company's Current Financial Situation
The Walt Disney Company is one of the leading entertainment companies in the world. The firm has frequently reported solid financial results for the past several years. As a result, the organization's market cap has grown significantly since 2013. Over the past year (2018), the company has seen its market cap not rise as investors evaluate Disney's future growth prospects. The firm is expanding its streaming services division with the launch of Disney+ in mid-2019, which could be a significant growth area for the company. Parks and Resorts is expanding its operations with the additions of Star Wars themed lands and other attractions in Disneyland and Walt Disney World. For the past quarter (2019 Q1), the company saw significant declines in its Studio Entertainment segment, which is an area of concern for the organization. Walt Disney Co's movie slate for 2019 looks to be solid, however. The upcoming movies should allow Studio Entertainment to match or beat prior quarters.
October 2019 Update: The company experienced a slight down turn in performance for the 3rd quarter and it will have to be seen how the company performs for the 4th quarter
November 2019 Update: Walt Disney Co's 4th quarter results were good, which was a rebound from the 3rd quarter. Media Networks, however, reported a decline in performance.
Disney is a solid company that is performing well; however, the main thing to watch going forward will be the firm's ability to generate growth in its divisions.