In this article, we review the Buzz Lightyear's Space Ranger Spin logo for the attraction that is located in the Magic Kingdom at Walt Disney World Resort in Florida.
For Buzz Lightyear's Space Ranger Spin, The Walt Disney Company created logos specifically for the ride. The main logo for the ride is based on designs that align with logos that Pixar created for Buzz. At the front of the ride is the sign that has the main logo for the ride.
Main Logo
The main logo contains the name for the ride "Buzz Lightyear's Space Ranger Spin" that is featured on a space background. The font for the logo is a space type font that has Buzz Lightyear's in purple and Space Ranger Spin in a green and blue/teal color. There are stars and a planet that is featured on the logo design also.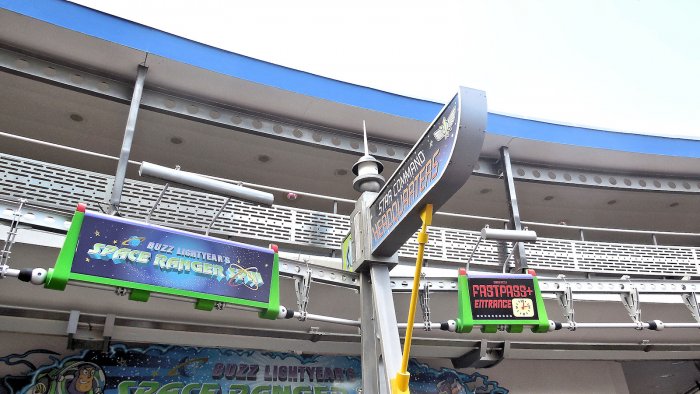 Above is a photo of the logo for Buzz Lightyear's Space Ranger Spin. The photo is by David Aughinbaugh II and NavFile
Other Logos
There are other logos that are used on the ride and many of them have the design that is based on the main logo. One other logo that is used is the SR logo that stands for Space Ranger. Overall, the logos are based on the space theme that has lime greens, purples, and blues.
Battery Logo
One of the interesting logos on Buzz Lightyear Space Ranger Spin is the logo/brand for the batteries. The batteries have a blue and lime green design that fits with the theme for the attraction. That is one of the most noticeable logos as there are many batteries that are featured throughout the ride.
The Z Target Logo
Another logo that was created for the ride is the Z target logo that guests are to hit with their laser shooters/blasters. The Z target has black, orange, and yellow colors as part of its design.
To learn more about Buzz Lightyear's Space Ranger Spin, please visit the other pages that are here on the site.
Thank you for visiting us today!