The Space Mountain roller coaster in the Magic Kingdom at Walt Disney World Resort does have a couple of hidden Mickey Mouses as a part of the ride and the building. Below is an overview on some of the "hidden Mickeys".
Space Mountain Hidden Mickey Mouse Easter Egg On the Ride
According to some websites, there is an asteroid that is in the shape of Mickey Mouse that is displayed during the ride (not verified by us).
The cluster of stars or planets that can be seen while on the climb / incline portion and throughout the ride, has what looks to be a hidden Mickey Mouse.

Some places are showing that another Space Mountain ride, Space Mountain at Disneyland has a "hidden" Mickey Mouse that makes up the in seat speakers. This hidden Mickey Mouse is only found on that version of the ride and is not found at the Walt Disney World version.
In The Line
There are hidden Mickey Mouses in the line. At the "zigzag line area", near the loading bay / station, the video screen displays a Mickey Mouse hat as one of the items to store in the mesh bag that is located on the ride. It is displayed during the portion that says "Stow Away All Space Cargo". An "Easter egg" is also displayed on the screen, which is an image of Stitch from Leo & Stitch.
The Building
On the exterior of the Space Mountain building, actually the Tomorrowland Light & Power Company building, there are two gears and a clock that are in the shape of Mickey Mouse at the top of the building. You can see this in the photo below. The photo of the building is after the Video Arcade sign was removed from the building. With the Video Arcade sign removed, the Mickey Mouse logo is now much easier to see. Walt Disney World did a good job in blending this hidden Mickey Mouse as it is not that noticeable.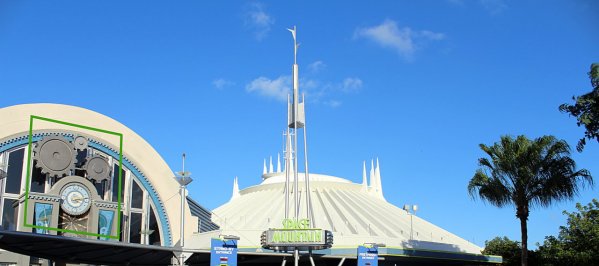 Above Space Mountain exterior hidden Mickey Mouse photo originally by Theme Park Tourist on Flickr & Wikimedia Commons. Photo modified by NavFile and released under a Creative Commons License.
Those are some of the hidden Mickey Mouses that we have found for this ride. If you have a located other ones please feel free to contact us. Also if you are interested in learning more about Space Mountain at the Magic Kingdom, visit the other pages here on the site.