Space Mountain height requirements or restrictions are as follows for the roller coaster at Walt Disney World, Magic Kingdom, Orlando, Florida.
As of the date of this article, Disney World has posted that the Space Mountain minimum height requirement for the ride is 44 inches or 112 centimeters or taller in height. In feet and inches the minimum height restriction is 3 feet 8 inches or 3.67 feet. The height requirement in meters is 1.1176 meters.
There is a measuring stick or sign at the front entrance to the ride. The sign will help you and persons in your party ensure that you meet the height requirements. All height restricted Disney World rides have a measuring sign. The sign looks like the following photo: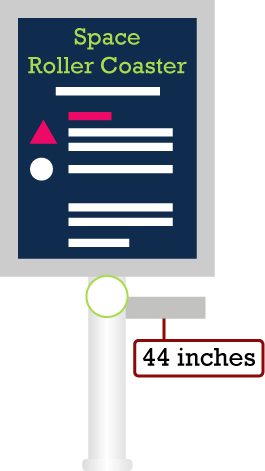 The Space Mountain attraction at the Magic Kingdom has the highest minimum height restriction at the theme park. Following Space Mountain in minimum height requirements are Splash Mountain and Big Thunder Mountain Railroad. "It does seem that mountains are popular in the Magic Kingdom."
Overview of The Ride
Space Mountain is an indoor roller coaster that is located inside the Magic Kingdom in the section or land called Tomorrowland. The Magic Kingdom is part of Walt Disney World Resort, which is a large resort with theme parks, traditional hotels and resorts, water parks and more. To learn more about Space Mountain visit the other pages here on the site.