This article goes over what Splash Mountain is like at night in the Magic Kingdom. The version of Splash Mountain that is covered in this article is the one located in Walt Disney World Resort (Florida). The other versions of the ride are not covered in this article.
The Attraction in the Evening
Splash Mountain is one of the many rides that can be experienced at night in the Magic Kingdom. This attraction is interesting to ride at night because it is cooler in the evening and the outside portions of the ride are viewed in the dark. The outside portions of the ride have lights that light up some of the areas of the "river"; however, the ride looks very different when compared to the daytime. Guests can also see a great nighttime view of the Magic Kingdom from the exterior of the attraction. Inside, there is no difference in the ride experience because the interior lighting does not change in the evening.
One of the main differences with riding Splash Mountain in the evening is the view of the big drop. The 50-foot drop near the end of the ride is darker and a night overview of the Magic Kingdom, Cinderella Castle, and Tomorrowland's Space Mountain can be seen in the distance.
In addition to the lighting differences, the cooler temperatures at night can make the water splashes more "interesting" when compared to the daytime. A nighttime ride in January at 40 to 50 degrees Fahrenheit can be very "cool".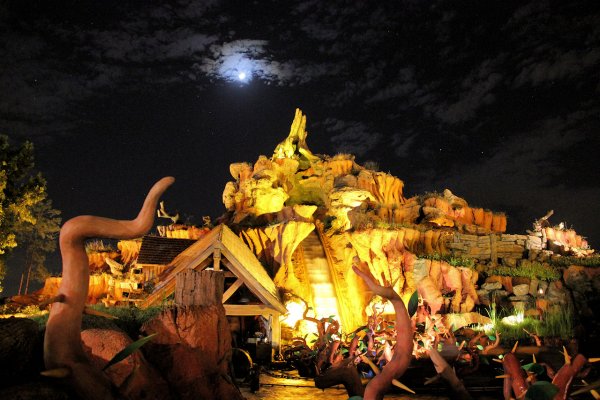 Above photo of the front of Splash Mountain at night by Laika ac on Flickr and Wikimedia Commons. Image enhanced by NavFile. Photo released under a Creative Commons License.
View the Nighttime Experience
Our team has gathered some of the best nighttime videos of Splash Mountain for you to view here. In the video player below, you can view and digitally experience what the ride looks like at night. The third video has a night vision view of Splash Mountain with the green video tint. The night vision camera view of the ride seems not to be necessary as most of the other videos capture the ride experience very well.
To learn more about Splash Mountain, please visit the other pages that are on the site.