In this article by the NavFile Team, we review the Splash Mountain track layout and blueprints for the Walt Disney World Resort version of the ride. The track layouts for the other Splash Mountain rides are not covered in this article.
Splash Mountain Track Layout
Splash Mountain has a very interesting track layout that involves inclines and a few drops. The ride starts out in at the loading area that is near the bottom of Splash Mountain and makes it way to the top of the mountain through several inclines and turns. A good portion of the ride is spent inside of the mountain where the story for the ride is featured. All of the turns for the ride and the track layout for the ride are listed below.
Track Layout Overview
From the loading area:
Straight
Right
Straight – Up (Incline)
Outside – Right 180 degrees
Straight – Inside Makeshift Building
Straight – Up (Incline)
Straight – Slight Downward drop (Outside)
Right
Straight
Slight Right
Straight
Right – 180 degrees
Down – Drop – 10 to 20 Feet
Straight – Entering the mountain (inside)
Right (May bump in to the corner of the turn)
Left - Slow
Right
Left
Right – 180 degrees
Slight Left
Right
Drop (Fast)
Right
Drop (Fast)
Left - Inside of Cavern
Right
Straight
Up – Incline to the big drop
Big Drop – 50 feet
Straight – Tunnel
Right – 180 degrees (outside)
Left
Slight Right - Tunnel
Left
Slight Right – Right Waterfall
Mini Drop
Right – Into the steam boat scene
Left
Straight
Left – Fox and Bear scene
Right - 180 degrees into the unloading and loading area
Straight – To the loading area
Splash Mountain Blueprints
Blueprints are a popular item of interest for most of the rides featured in Walt Disney World. Our team has put together a blueprint for the ride that is featured below.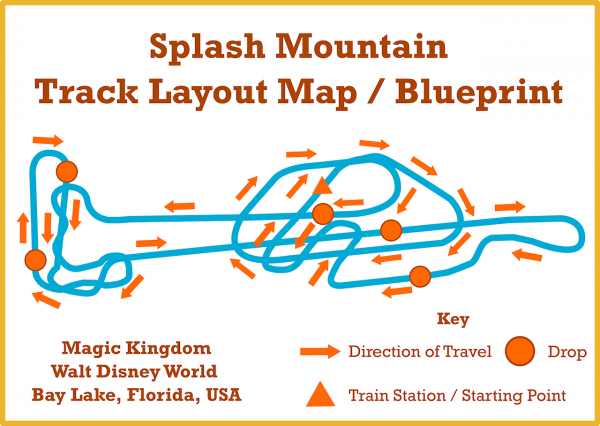 Above image of the Splash Mountain blueprint by NavFile. Please feel free to share or reproduce on other sites with attribution to NavFile and this page.
There are also many sites that are dedicated to creating blueprints for the rides. One site is Disney Blueprints which has detailed blueprints that look like architectural quality designs. You can view their Splash Mountain Layout blueprint on their site here.
View The Track Layout
One of the best ways to view the track layout is to view videos of the ride. On our Splash Mountain videos page, you can view in-ride videos of the attraction and see the track or waterway design of Splash Mountain. Please feel free to visit that page here for more information.
To learn more about the Magic Kingdom/Frontierland ride visit the other pages that are featured on our site.
Thanks for visiting us today.