Splash Mountain is a water log ride attraction that is featured at various Walt Disney Parks and Resorts theme parks around the world. An overview of the big drop and the other drops for the Walt Disney World Resort, Bay Lake, Florida version of the ride is covered in this article.
The Drops
Splash Mountain has four drops that are part of the ride's layout. There are four minor drops and one big drop. The 3 of the 4 minor drops occur before the big drop that is located near the end of the ride. The big drop is 50 feet, while the other drops are estimated to be under 20 feet. Walt Disney World describes the drop as being a 5 story fall; however, other sources report that the drop is 52.5 feet in length. There is a very small drop that is located right before the last scene for the ride.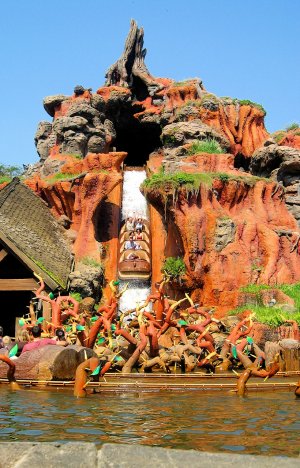 The above photo of the Splash Mountain Big Drop is by Nelson de Witt on Flickr and Wikimedia Commons. Photo enhansed by NavFile and released under a Creative Commons License.
Small Drops
The first drop is located right before the point where guests are about to enter the inside of the mountain. This drop is a minor drop that is approximately 10 to 20 feet tall. After the first drop is the second drop that is located before entering the area where Brer Bear has the honeycomb stuck on his nose. The third small drop is right before entering the cavern and right after leaving the Brer Bear honeycomb scene. This drop is a gradual drop that allows the water log to travel fast. After those 3 drops is the big drop that is situated right after the cavern scene. The fourth small drop is a very small one that is located right before the steamboat scene at the end of the ride. That drop occurs outside and is preceded by a slight pause
The Splash Mountain Big Drop
Splash Mountain's big drop is located right after the cavern scene. Upon exiting the cavern scene, guests are taken up an incline that is dark and features vultures at the entrance and Brer Rabbit tied up by Brer Fox on the left side. The Brer Rabbit scene is featured right before guests are about to take the 50-foot plunge. At the top of the incline, guests get a brief view of the Magic Kingdom, Cinderella Castle, and Space Mountain. The 50-foot drop is the largest drop in the Magic Kingdom and is one of the more "scarier" experiences that can be experienced in the park.
View The Drops
To view the drops online, please visit our video page that has several videos of the ride with all of the drops covered.
To learn more about Splash Mountain, feel free to visit the other pages about the attraction that are featured in the menu.