Splash Mountain is a popular water log ride that was developed by The Walt Disney Company during the late 1980s. This article reviews the exit and exit area for the version of the ride that is located in the Magic Kingdom at Walt Disney World Resort in Florida.
Splash Mountain Exit Details – The Briar Patch
Splash Mountain has a regular type of exit that has guests exiting the ride into the gift shop. Guests that are leaving the attraction are led into the Briar Patch gift shop where they can see photos of themselves during the big drop. The Briar Patch gift shop has an assortment of memorabilia and other goods based on the ride. The Briar Patch is located near the front of Splash Mountain, to the right of the bridge.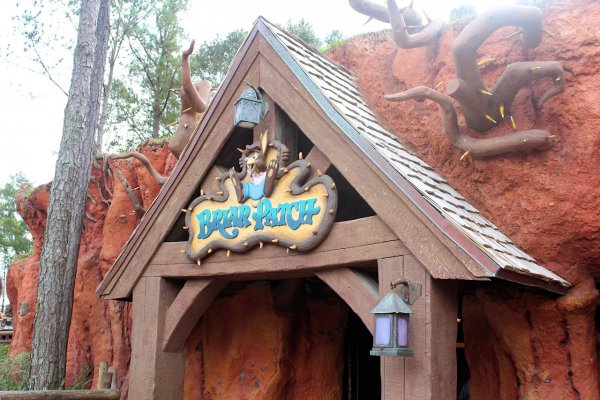 Above Briar Patch gift shop - Splash Mountain exit photo by Theme Park Tourist on Flickr. Photo enhanced by NavFile. Image released under a Creative Commons Attribution 2.0 Generic license.
The Splash Mountain gift shop can be entered without riding on the attraction by accessing the Briar Patch from the front door. The front door for the gift shop is located near the "courtyard" that leads to the entrances for Splash Mountain, The Walt Disney World Railroad, and Big Thunder Mountain Railroad.
Exiting Splash Mountain Without Riding on It
If you or your guests decide that riding on Splash Mountain may not be a good idea, you can exit the ride rather easily. When you get to the loading area just tell the cast member that is assigning seats that you would like to exit the ride. The cast member will then tell you to just cross through the seats of an assigned row when the gates open. After walking to the other side, you will then just exit the ride as if you have just finished riding Splash Mountain.
The Chicken Exit
That type of exit is usually referred to as the "Chicken Exit" or exiting before getting on the ride. Splash Mountain is one of the more scarier rides in Walt Disney World as it has the largest drop in the Magic Kingdom (over 50 feet). A Chicken Exit is convenient for those who may get scared while waiting to get on board the ride. Splash Mountain and most of the rides in the Magic Kingdom are not that scary when compared to other parks. Millennium Force at Cedar Point is one ride that is extremely scary and definitely needs a Chicken Exit when compared to the rather mild Splash Mountain.
To learn more about Splash Mountain, you can visit the other pages on the site that cover the ride in detail.