A popular topic for Disney's Splash Mountain is what the attraction looks like with the lights on. The "lights on" topic is popular for many of the rides at Walt Disney Parks and Resort theme parks as it is a rare occurrence that only happens when there is a potential issue with an attraction. In this article, we cover what happens when the lights are turned on for Splash Mountain in the Magic Kingdom at Walt Disney World Florida.
Splash Mountain Lights On Situations
Walt Disney World Cast Members turn on the lights for Splash Mountain when there are potential problems with the ride. From our research of the situation, it seems that the lights are usually turned on momentarily while Cast Members fix the problem that has stopped the ride. When the problem is fixed, the ride is usually restarted, and the lights are turned on. As a result of that procedure, we have not found any videos of the ride operating with the lights on.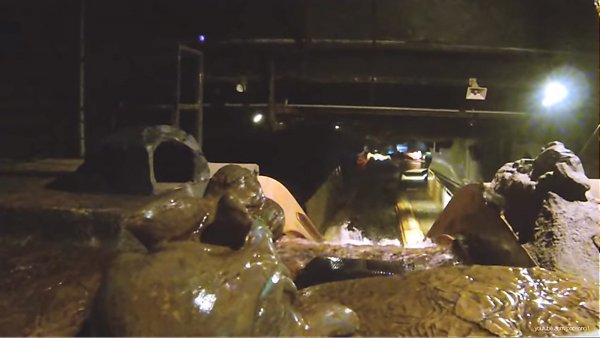 Above photo of Splash Mountain with the lights on inside from a photo capture of iThemePark's video listed below. Used under the fair-use provision.
Splash Mountain Lights On Videos
There are videos posted on YouTube of situations where the lights are turned on for the ride. In most of these videos, the ride is stopped for a short amount of time with the lights on. After the issue that caused the ride to stop is fixed, the ride is started with the lights off. When riding Splash Mountain, you will not be able to see the entire ride with the lights on, like Space Mountain, because Walt Disney World will turn the lights off when the attraction is in motion.
Below, you can see one of the videos that was filmed when the lights are turned on. The video is by iThemePark on Youtube.
The same procedure likely occurs at the other Splash Mountain rides at Disneyland California and Tokyo Disneyland; however, we have not seen any video or information of a lights on situation happening on those rides.
To learn more about Splash Mountain, visit the other pages we have here on the site.
Thank you for visiting our site.