be found in the "square" where the entrances to the Frontierland Walt Disney World Train Station and Big Thunder Mountain Railroad are located. This article covers how the queue or line is set up for the Walt Disney World version of the ride.
Splash Mountain Queue Layout
The line for Splash Mountain is set up in an interesting configuration that involves many turns and stairs to reach the loading area for the ride. You first start outside and then enter the Splash Mountain building that is themed with a country style look. After going inside the building, guests are sent back outside. Guests are then redirected to a set of stairs which leads guests back inside of the building. Inside of the building, guests are then led to the main queue area for the ride. Before getting on the ride, guests head down a corridor that winds down to the loading area.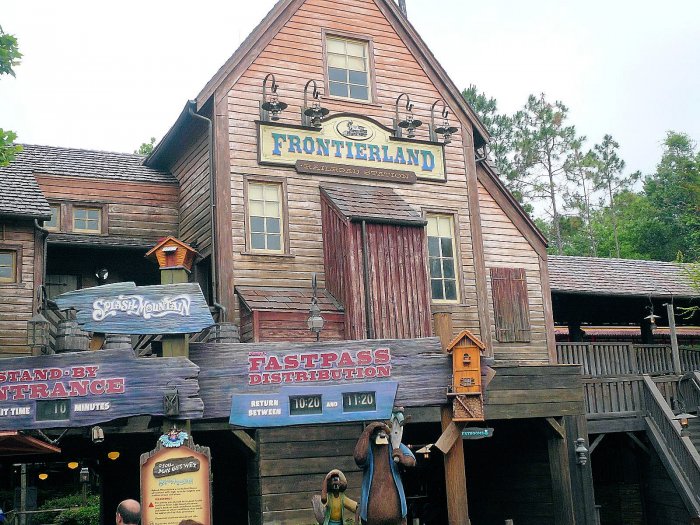 Above Splash Mountain queue or line entrance photo by Michael Gray on Flickr. Photo enhanced by NavFile and released under a Creative Commons Attribution-ShareAlike 2.0 Generic license.
The wait time for the line can be for a significant amount of time as the attraction is one of the popular rides in the park. The ride, however, usually does not have wait times that are the highest in the park. Space Mountain and the Seven Dwarfs Mine Train are the two rides that are among the top two rides with the longest wait time in the Magic Kingdom. More information on the wait times for the attraction can be found on our wait time and ride time page.
Below you can view a video that showcases what the line/queue area for the ride looks like.
Splash Mountain Queue Music
The queue music for Splash Mountain features songs from the film Song of the South and other songs that were created by The Walt Disney Company for the ride. "Let the Rain Pour Down," "That's What Uncle Remus Said, "Sooner or Later," "Zip-A-Dee-Doo-Dah," "How Do You Do," "Laughing Place," and other songs are featured in the Queue. You can listen to the songs in the video player below. More information on the music for the ride can also be found on our music and theme song page for the ride.