In this article, we cover the potential existence of a Splash Mountain Video Game.
Does a Splash Mountain Video Game exist? Yes, there is a game that has a version of Splash Mountain in it. In 2011, Frontier Developments and Microsoft Studios released Kinect: Disneyland Adventures for the Xbox 360. In 2017, a revamped version of the game called Disneyland Adventures (without the Kinect) was developed by Asobo Studio for the Xbox One and Windows 10 Personal Computers (PCs). Both games feature the Disneyland version of Splash Mountain as part of the gameplay. Even though this is the Walt Disney World section of our site, we have decided to cover the Splash Mountain game here as it has many similarities with the Walt Disney World version of the ride. The Walt Disney World version of the ride is not featured in a game.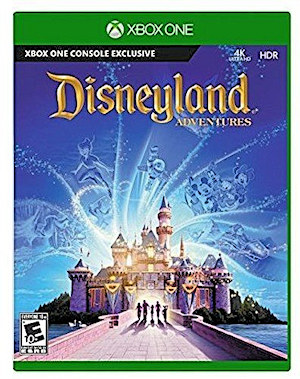 Above photo of the case for the game from Amazon.
Splash Mountain Game
In Disneyland Adventures, players move around Disneyland California to meet with characters featured in the actual park and complete challenges based on Disneyland's rides. The exterior of Splash Mountain is featured in the game and a modified game version of the ride is shown, according to our research. The game featuring Splash Mountain is one that involves the three main characters for the ride, Brer Fox, Brer Rabbit, and Brer Bear. At Splash Mountain, you meet Brer Fox who assigns tasks to be completed. From those tasks, you end up meeting Brer Rabbit and Brer Bear. In addition, there is a mini-game that features Brer Rabbit taking players through the Briar Patch and then on a water log and water barrel journey on a river with waterfalls. That is basically the version of Splash Mountain that is featured in the game. Splash Mountain is one of the interesting features of the game as it contains characters from the film Song of the South, which has been blocked from being re-released by The Walt Disney Company.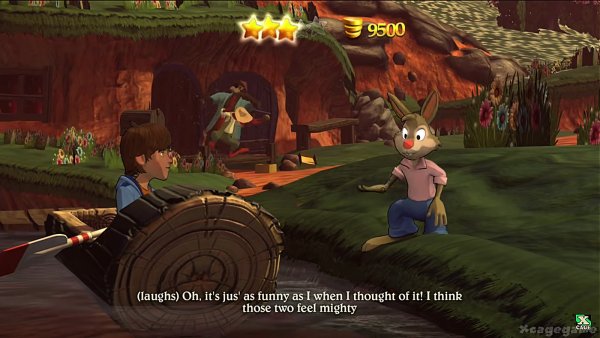 Above screen caputure of the Splash Mountain video game, Disneyland Adventures, from XCageGame's YouTube video.
For those that are looking for a Splash Mountain video game, Disneyland Adventures is the game that features the attraction with games based on the story for the ride.
You can find the game at retailers of video games and on the Microsoft and Steam websites. At the time we were researching information on the Splash Mountain game, Disneyland Adventures for Windows and Xbox One was retailing for $19.99 USD on the Microsoft and Steam websites.
Videos for the games are featured below. The first video automaticly starts at the Splash Mountain part which is at 1:09:20. The second video has covers some of the characters from the ride at the end.
To learn more about the water log ride, feel free to visit the other pages about the ride.
Thank you for visiting us today!