Splash Mountain is one of the most popular rides in the Magic Kingdom and throughout Walt Disney World. Various times for the ride are among the important topics for the ride. In this article, we review the wait time and the total ride time for Walt Disney World version of the attraction.
Splash Mountain Wait Time
The wait time for Splash Mountain can be long when guest levels are elevated. Splash Mountain is one of the top rides within the Magic Kingdom. Wait times for the ride usually range from 30 minutes to 2 hours. On busy days wait time can be close to two hours. On July 4th, 2017 (Independence Day Holiday) Splash Mountain had a wait time of 115 minutes or 1 hour 55 minutes. On typical and low traffic days the wait time can be in the 30 to 70-minute range. FastPass+ reservations are recommended for the water log ride as the wait time can be very long.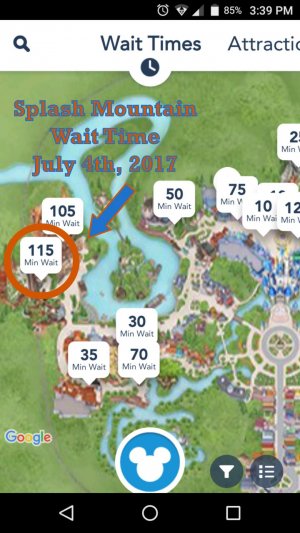 Above photo of the wait time for Splash Mountain on July 4th, 2017 from the MyDisneyExperince app on Android.
Current Wait Times
Wait Times for the attraction can be found on the MyDisneyExperience (MDX) app that can be downloaded on Android smartphones and iPhones. You can get the app by visiting the Walt Disney World website or going to this page on their site.
Splash Mountain Ride Time
The ride time for Splash Mountain is approximately 12 minutes from the start of the ride to the point where you are about to enter the exit and loading area. The time will fluctuate slightly based on ride conditions. At 12 minutes, Splash Mountain has one of the longest ride times for an attraction in the Magic Kingdom.
To learn more about the water log flume attraction, please visit the other pages that featured on the site.